Pediatric Ophthalmology
Burbank Pediatric Ophthalmology Options
Children can experience many of the same vision problems as adults, such as nearsightedness, farsightedness, and astigmatism. Other common issues for children include congenital conditions such as amblyopia (lazy eye) and strabismus (crossed eyes), which have the potential to affect proper vision development.
Eye examinations for children are very important so we can treat any vision problems that may affect future vision. At Berg Feinfield, we offer excellent services for children and strongly encourage you to bring your whole family in for eye examinations.
Children should have their first eye examinations around the age of two, although it is never too early to test a child's eye health. Children's examinations test visual acuity, focusing skills, and eye-tracking. They also detect problems such as dyslexia, color blindness, amblyopia, or crossed eyes. Children's exams should be performed on a yearly basis.
Children's Eye Exams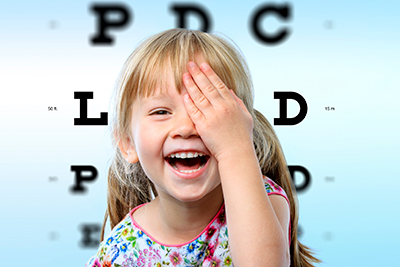 At Berg Feinfield, our goal is to keep you and your children in the best eye health possible. If you are searching for a pediatric eye doctor, Berg Feinfield may be right for you.
It is recommended that you take your child to their first eye examination at the age of 2. If signs of visual problems occur before this age, they should be examined by an eye doctor as soon as possible.
During your child's eye examinations, our doctors at Berg Feinfield will test for the following:
Visual acuity
Eye alignment
Focusing skills (important when reading)
Overall eye health
If your child has not had an eye exam recently, make an appointment at Berg Feinfield. Remember, proper care of our eyes is important, especially at an early age. Contact us today to make your appointment!
What is Amblyopia?
Amblyopia, commonly known as lazy eye, is a very common condition in children. Amblyopia causes reduced vision in the affected eye, while the unaffected eye becomes stronger. This condition usually develops in children under the age of 6, and without treatment, it can persist and worsen into adulthood.
What is Strabismus?
View Video
Strabismus is a condition in which a person cannot align both eyes correctly. This condition, which causes the inability to focus both eyes on one object at the same time, affects about 5% of children. If left untreated, this condition can cause visual impairment.
If your child is being affected by any visual problems, it is important that they receive treatment as soon as possible. Contact Berg Feinfield today to set up your child's appointment!