Patient Testimonials
Here are some testimonials from our satisfied patients.
-Videos by Fireball Tim
---
Hi Dr. B,
Just wanted to take the time to once again thank you for your care, talent, expertise, and excellent work on my recent eye surgeries and IOC lens implants. As I mentioned to you last Friday on my post-op visit, both you and your surgical staff were beyond what I could have hoped for during what was/is for me, a fairly scary and life-changing procedure. While it's still too early to fully judge the end results, I know I received the best work and care possible, and IF needed you'll be there for any potential complications down the line.
I know there are many of my colleagues in the film/television industry that will at some point in the coming years require this type of procedure, as we all begin to age into that period of life – as I told you, I will be sure to recommend and tell them what a fan I am of your work and facilities.
** Also as mentioned, IF I am lucky enough to make to the final Nominations for the Oscars this coming year, I'll look into getting you tickets to attend – I think we have a few projects that are good contenders !!
Once again, thanks MUCH – Happy New Year !!
All the Best,
– Ken
---
"I had a sub-optimal experience with an ophthalmologist in the past which made me apprehensive towards pursing vision correction; however, a few close friends and physicians highly recommended Dr Berg to me. Dr Berg, as well as his entire staff have the utmost professionalism as well as bedside manners. I am extremely satisfied with the results. Best investment I have ever made. Thank you, Dr Berg!"
— C.E.
---
"Thanks for making me see again!"
— Jane Lynch, Actress
---
"Thank you so very much for restoring my eye sight! It's a miracle! You're a genius!!! I thank you from the bottom of my heart."
— Rita P.
---
"Thank you so very much for fixing my vision. I am pleased with the results & kind customer service you provided. You all made an otherwise challenging operation to be a very pleasant experience. Keep up the great work!"
— Miriam
---
"I just wanted to say thanx for giving me back my Freedom! It has made a big difference in my life."
— Kimberly S.
---

"I can see!! I can see!! Thank you."
— Dean McDermott, Actor
---
"Just wanted to Thank You so much!!, for the wonderful surgery. Words can't even express how happy I am. I have been wearing glasses and lenses since the age of 7. I am now 39. It is amazing to wake up and be able to see so clearly. I feel like a new person."
— Halle M.
---
"Thanks to you guys I am able to travel "light" (without all my contacts solutions) and the hassle of putting them on. It's been such a life changing miracle!"
— Sue L.
---
"I'm still adjusting to being w/o glasses after being a "lifer" for almost 60 years! Thanks so much for all your care and concern. What a great team!"
— Patti K.
---

"I once was Blind but now thanx to you I can see. Thank you soo much – God Bless"
— Quinton Aaron, Actor
---
"Words cannot describe how grateful I am to you! Thank you so much for all the knowledge, comfort, and care that you and your wonderful staff provided me during my journey to aid-free perfect vision."
— A.N.
---
"Wow – what a beautiful world I have been missing? But I am not missing my contacts or glasses at all."
— Karis B.
---
"It still seems so surreal. Every morning when I wake up I can see the time on my bedroom clock across the room, I can see my baby sleeping in the monitor up high on my dresser, I can see which Siamese cat is at the foot of my bed, and all with out having to reach for my glasses first. It has been such an amazing feeling to have perfect vision without assistance, and I owe it all to you and your incredible LASIK team. Everyone there was so sweet and comforting. They made the whole procedure a walk in the park. I have been telling everyone I know about you guys and what you did for me. Thank you for changing my life. I am forever grateful."
— Antoinette M.
---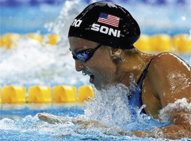 "Thanks for the friendly, professional service and for correcting my vision. Without these eyes I would have never been able to achieve my dreams in the pool."
— Rebecca Soni, 2012 Olympic Gold Medal Swimmer
---
"Thanks for making Professionalism look easy!" You all perfectly exemplify that same 'Professional- Team' attitude that brings success to the V-22 Osprey Program where I work everyday."
— Vince P.
---
"Love, love, love Dr. Berg. He is a fantastic doctor and his staff is great. They could work on the amount of times patients wait to be seen, but other than that, I am very happy with the Sherman Oaks office and staff. Definitely recommend them to my friends."
— Jennifer B.
---

"Now I'm not blind."
— Dominic Monaghan, Actor
---
"Dr. Berg did my LASIK a year ago. The results were nothing short of outstanding. The price was not the cheapest but I will tell you they pay attention to detail. I was not a simple customer; I had a lot of questions and some post-surgery anxiety. Dr. Berg answered my questions and took care of me when I needed it. It's been a year and I recommend LASIK and Dr. Berg to anyone who asks me."
— Jennifer B.
---

"U Rock!!! I ♥ U! Thanks!"
— Kelly Stables, Actress
---
"Thank you so very much for the wonderful gift of being able to see in the mornings with out the use of contacts or glasses. My life is so different after LASIK surgery. I don't have to spend time in the mornings and night taking off contacts. I especially love that I see better than I did with contacts. Thanks a million!"
— Meline M.
---
"I had my custom wavefront LASIK operation here with IntraLASIK to cut my corneal flap. The operation was quick and successful! They do many extensive tests on your eyes before they even start the surgery to make sure they know what's the perfect procedure for you. They will give you an eye exam with an Ophthalmologist and an Optometrist before and after to make sure everything is perfect. Dr. Berg and Dr. Lee are the greatest! They keep you calm and really prepare you well for the surgery. I now have 20/10 vision in both eyes immediately after the surgery. No complications, speedy recovery, and great results! I love life so much more after this surgery, I can see beyond perfect with no more contacts or glasses! No more dryness associated with contacts! I recommend LASIK to everyone that is a candidate, it is definitely worth the money! It has been six months since my surgery and everything is going great!"
— John O.
---

"Thanks for the new eyes!<3 U! Thanks!"
— Ryan Dietzen, Actor
---
"Everyone was wonderful. They made me feel very comfortable from the very beginning. Dr. Berg is a very caring person and loves what he does and it shows."
— Stacy
"Thank you so very much Dr. Feinfield for restoring my eyesight. There is no way I can describe the joy and excitement I have felt since you removed my cataracts. Everyday I tell myself how lucky I am to be able to see again and without glasses! Thank you again for making this all possible and for your friendly and caring manner in dealing with all of my anxieties."
— Lawrence R.
"Excellent! Everyone was friendly, understanding and informative with a goal of total satisfaction."
— Robert
"Excellent! I am so impressed with Dr. Berg and his staff. The surgery was painless and very fast. Unbelievable experience!"
— Lorraine
"Dear Dr. Feinfield:
I want to thank you and your staff for the wonderful experience I had with the recent laser vision correction surgery I had performed. You and your staff were great and made the process simple and comfortable. I was nervous about having this procedure performed, however the professionalism and caring of you and your staff made me feel comfortable through the entire process. Thank you for taking the time to explain each step of the process and thoroughly answering my questions. It is fantastic to be able to see without glasses and I can't tell you how glad I am that I made the decision to have my vision corrected and that I chose you to perform the surgery."
— Dave G.
"Dear Dr. Berg:
I can't thank you enough for all that you have done during my Lasik procedure. It is amazing that after almost 20 years of wearing glasses, I can now wake up in the morning and see everything! No longer will I have to search for my glasses. You are a great doctor and I was blessed to have you perform my procedure. Thanks again for everything!"
— Jim N.
"Dr Berg.
It is absolutely amazing how clearly I can see now. I knew the results would be good but this is Unreal! Thank you sooo much for your incredible talent, your continued patience and unparalleled performance.
— Steve G.
Discover the LASIK difference with CustomVue LASIK in Los Angeles. Contact Berg Feinfield Vision Correction today to schedule your complimentary vision consultation with one of our skilled LASIK doctors.