Shaden Sarafzadeh, M.D.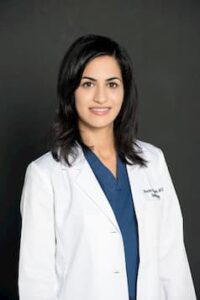 Ophthalmologist / Cataract Surgeon
Dr. Shaden Sarafzadeh is a board-certified ophthalmologist and cataract surgeon. She believes that every eye and patient are unique, so she approaches each cataract surgery with a personalized touch. Dr. Sarafzadeh has been selected as one of the "Top Doctors" in the field of Ophthalmology by Los Angeles Magazine from 2018-2020.
Dr. Sarafzadeh graduated from the University of California, Berkeley with a degree in Molecular and Cell Biology. She went on to attend medical school at the University of Cincinnati and completed her ophthalmology residency at the University of Minnesota. During her time in Minnesota, she won the Harry Friedman Research Award for her study on presbyopic lens implants in patients with prior refractive surgery.
Dr. Sarafzadeh has presented at multiple national ophthalmology meetings, including the annual meeting of the American Academy of Ophthalmology and the Annual Symposium of the American Society of Cataract and Refractive Surgery, where she won an award for her presentation on presbyopic intraocular lenses.