Lilit Minasyan, MD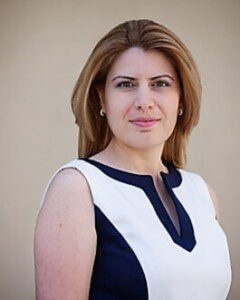 Dr. Minasyan is a Board Certified Ophthalmologist specializing in glaucoma, cataract surgeries and treatment of a variety of eye diseases.
Dr. Minasyan has over ten years of experience in the field delivering quality care to her patients. She is passionate about providing the best care and prides herself on the individual attention she provides to each patient.
Dr. Minasyan received an undergraduate degree from UCLA and earned her graduate degree in medicine at University of California San Diego, where she also completed her residency program in ophthalmology. After the residency program, she completed a glaucoma fellowship program at UCLA Doheny Eye Institute. She is an active member of the American Glaucoma Society and is an author of a number of research articles and publications.
Dr. Minasyan is fluent in English, Armenian and Russian.